Ceramic Artist from Verona
My work is a party, it is a concert of silence and sound.
We met Anna on our #KULAMeters Trip through Italy. We parked directly infront of her studio and saw her working. Of course we had to enter to her atelier. From this day on, we are in contact and became a big fan of her sculpture. We recommend everyone to visit her atelier and meet her in person. A wonderful creative person. Welcome to our Interview with Anna Grazia Perlini.
Wine or Beer?
Wine
Potatoes or Pasta?
Pasta
Anna, you are from Verona, since when do you work with ceramics, why did you choosed to open a studio in Verona?
I'm from Verona, I've been working with this material for over thirty years. For a financial perspectives, it would have been difficult to open a studio elsewhere. I live here, and work every day …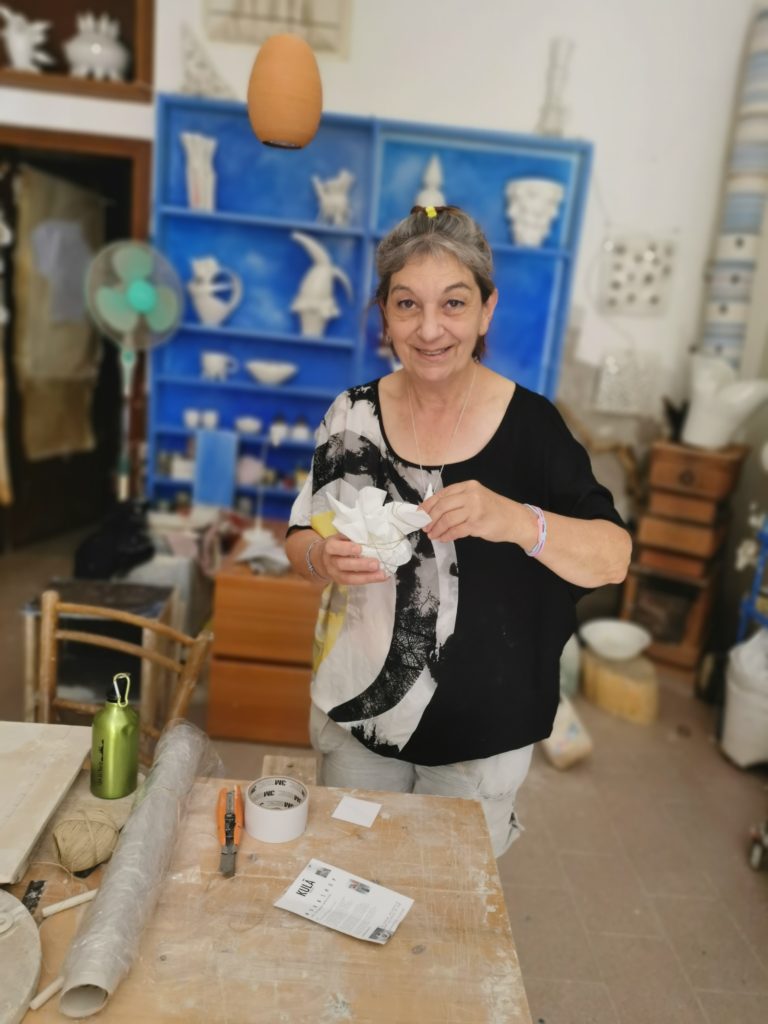 In which district is your studio?
I have my studio in one of the oldest areas of the city: San Giovanni in Valle.
How did you start? What are your inspiration?
I have always done something in the expressive fields, but to tell the truth I only imagined that my destiny will be sculpture and the molding. When I was 16 or 18 year old, I started painting. At 22, I had an amazing experience of theater (Grotowsky's Body Theater) which marked me for life. From there … the research began for me: meaning of doing, of action, through another body: the material. It was for me very useful to read about Duchamp, the "retinal art", the "ready made", the "Great Glass".
What technique do you work with?
I use Tender Earthenware, a white ceramic mixture with a subtle body. I move into the world of majolica. I assemble pieces made on the lathe and modified.
Why do you choose ceramic?
Ceramics allows both an artisanal production of series, for the home, the table, and furniture, but also to make more sculptural research.
Day or Night?
Evening
Which topics are important to you as a creative person? What europe should do for creatives?
I continually move from pure research around form, a sculptural research, to production of objects suitable to use. For this I have adopted the term "Form – Object" to define that form that also contains a possible use, and, as a counter-altar, that object "dressed in one new form ". The context of "Form-Object" in my work there is the realization of forms that foresee and the user intervention is a game: my latest works for example, "Circles" are sculptures in which natural elements such as flowers or stems can be inserted, or they can be enjoyed as they are.
What are the major challenges as a ceramic artist?
Ceramics in the Western mentality is considered as a minor art, because it is "applied art". Is this the reason why presenting ceramic creation during exhibition and show is hard. We have some pre-conceptual relation to the object and It is a very common thing not to look with your own eyes but to rely on patterns and preconceptions. It is therefore a challenge to research art using ceramics as a medium.
What would your recommend to aspiring ceramic artists?
I would advise aspiring ceramic artists not to report their motive within the narrow scope of the sector. On the contrary: to have the roots of one's doing in a broader conception of making art. Ceramic is the medium, which should be known well, but the heart of the motif is not in the material, it is in. Nevertheless, the relationship with the material is very important. One happens between us and the material kind of relationship: the clay is reactive to the environment, it changes and follows implacable laws, and it is for this is that by working with such a material, in a certain sense, one stops being alone: ​​more the interaction between us and the material is successful, the more and better we get to work.
The shapes of your sculptures are unique, how did you find your style?
After a period of research on the reason for doing (in which I produced panels called "The Witnesses") , I decided for a mediation that would allow me a production to have income. I wanted to gather my life around this doing, something that had not been possible for many years. This mediation produced the birth of style: I had to make a saleable object of use, making the form spring from within me, as it were, ignoring the taste of others and that that I saw outside. I followed the principles of the research I had just left: do the necessary and exclude the excludable. Therefore minimal shapes. The "baroque" aspect of my first forms instead depends on the need to put highlight the thick enamel, which derives from a translucent material created in '91: another of the "principles" followed for the creation of salable objects.
Why do you use every angular shapes and then still organic? That what does it mean.
I don´t know! At first I used the cone a lot, a shape that I really liked, especially for how I can manage it on the lathe, as an open form, with the base upwards. Then, making the cone like shape closed, starting from the base to get to close more and more up to the apex, once the cone and pushing a little, the wall swells, the shape loses its geometric rigidity, and resembles a otherwise . And then all to say that I did breasts.
Now I work with circles, and it happened during the lock down the first circle
What are the major difficulties in your work and how do you face them?
The great difficulty is being able to keep everything together: being able to sell.
What technical possibilities would you like for the future?
For the future I would probably like to be able to work in larger dimensions.
What should change for artists in italy?
The Italian government should finally admit the existence of a national talent expressed in very small activities like mine, and change the contribution system. It is important to keep in mind needs and possibilities of these working realities.
What is your vision for the next years?
I would like the laboratory space to become a place for exchange, communication, a tool for others artist al well. 
What is your philosophy?
Heart and Mind are two aspects of one
Your biggest challenge?
Stay creative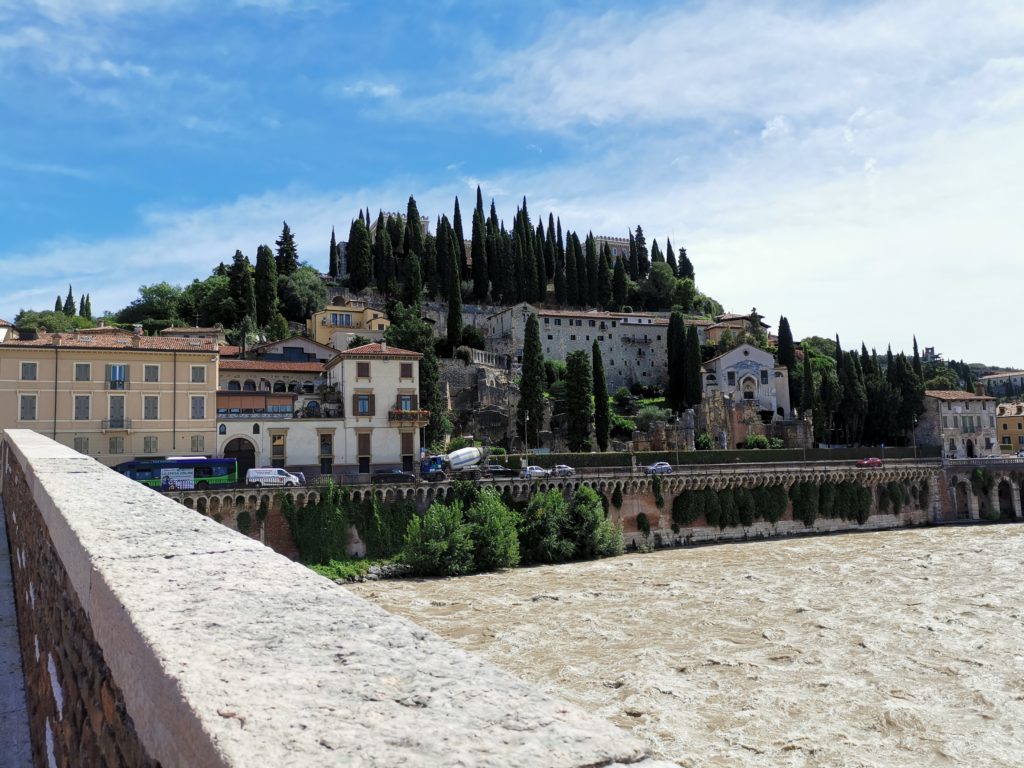 How do you spend your days of?
I don't have much free time. I love seeing friends. Eating together is something I really love to do.
How do you define success?
Success is being able to reach yourself
What should people aware of?
Of the effect of their consumption. Our awareness can still change things
How can the world be a better plance?
It can happen! If we will become harmonious people.
Which social change is important?
The rulers should be closer to the population, their intentions directed at this, and the populations more aware of the importance of their choices. It is important to keep in mind that individual choices affect the collective. For this reason, the personal conscience is the prime mover of change.
Is there something you always wanted to share`
Since I was a young girl, I have always wanted to share a place where everyone had the opportunity to express himself.
Life motto?
"Everyone should design to avoid being designed" – Enzo Mari –
Mission?
Be authentic
Check for more information her website: http://perliniceramicart.it/
If you are in Verona, we recommend to visit her Atelier!
Via Santa Maria in Organo, 22/a, 37129 Verona VR, Italien